Southern Slovenia
Julian Alps
Venue:
Julian Alps, southern region based at Lijak
Pilot Type:
All levels
Trip goals:
Early season thermalling. Getting in practice for main season. Reliable XC.
Accommodation:
Hotels with breakfast. Twin or single rooms
*Single room supplement applies
Trip Cost:
£630 for 7 nights
Typically includes:
Accommodation, Breakfast, Airport Transfer, Transport throughout, Retrieves, Guiding, Fly-guiding, Coaching, Live Trackers
Typically excludes:

- Site fees (typically 4€ daily. Only applicable to a few sites)

- Food (aside from breakfast which is normally included)

- Gondolas or Parataxis, if required.

Non flyer friendly
Not suited to non flyers unless they like watching paragliding or hiking.
Dates:

Check out the calender here and choose your week!
Slovenia, set in the heart of the Julian Alps. Truly a flyers paradise. The Julian Alps is the far end of the French Alps, so the terrain is very similar, but on a smaller scale. This means it is generally smoother air and less rowdy, suiting the lower airtime pilots, but also stays more reliable, suiting us all! Of course, holding more World Records for XC than France, or any other nation, you can see the Skygods will have a ball too!
The accommodation we typically use on these southern trips is set just 10 minutes from the landing field. From your hotel you can see much of the area we fly and pleasant views of the mountain ranges around us.
What is best about this trip?
Our trips in the southern end of Slovenia are great for the late winter and early spring period. They are not the warmest in the season and they are not in the heart of the mountains but they do allow you reliable weather (the most reliable month of the year is Feb and March) and they do allow you to thermal and get into practice ready for the season. But that is not to say XC will not be a big feature. Indeed we often fly up to 100km distances on these trips and I would be disappointed if a few of you were not achieving that sort of distance on these weeks. What is best about this trip is reliable XC and reliable weather. It also has minimal vehicle travel time and some amazing scenery for the snow capped mountains in the background.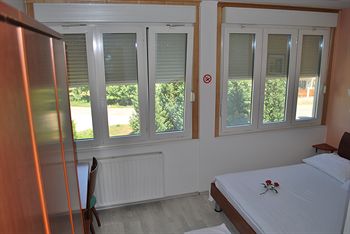 Accommodation?
Typically we offer twin rooms for pilots. In Slovenia they are not the most spacious, but they serve their purpose very well and are fairly central to the village with easy access to all the main facilities. We can also offer Double rooms, of course, and on a more limited basis and a small extra charge, there are usually some single rooms available
What experience do I need?
Our trips are suited from 'just CP' through to Skygod, although we often categorize the weeks to ensure a better harmony of flying skills. If you are a 5 hour pilot and just through your CP, missing the caring eye of your instructor, then we are quite used to assisting you guys. But equally we have very high airtime pilots out every season and still help them get personal bests, maybe that 100km XC you are seeking. We do expect pilots whom attend to be able to lay out their own kit and launch themselves, but that said, you will never be left on a launch unassisted and we are at hand to assist at all times.
Discounts?
We usually offer discounts for groups or early payment in full. For group discounts we require a minimum of 4 or more pilots booking together. Be a large group booking early and maybe we can offer in increased discount.
So what are you waiting for. Check out the calender here and choose your week!