Meduno, Italy
Dolomites, but a stone throw from the Julian Alps
Venue:
Dolomites, Meduno (Italy)
Pilot Type:
All levels. Particularly suits XC pilots
Trip goals:
XC for all pilot levels
Low airtime pilots can expect to be introduced to the Mountains and target up to 50km XC
Higher airtime pilots can be guided up to 100km through the region.
Accommodation:
Hotels with breakfast. Twin or single rooms
*Single room supplement applies
Trip Cost:
£595 for 7 nights
Typically includes:
Accommodation, Breakfast, Airport Transfer, Transport throughout, Retrieves, Guiding, Fly-guiding, Coaching, Live Trackers
Typically excludes:

- Food (aside from breakfast which is normally included)

Non flyer friendly
Very friendly for non flyers. Lots of activities to do.
Dates:

None planned for 2018 at present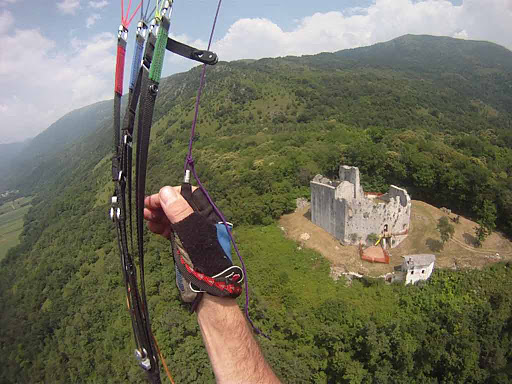 Meduno is in the northern part of Italy, around 1 hour drive from Venice and 90 mins from Bassano, being set further along the ridge. It is a lesser know site to most Europeans, other than the Germans who have been flocking there for years. In recent times there have been new organisers of the regions flying and they have had huge successes with the local community and mayors such that the site is well and truly on the map. For 2012 the British Championships was held here and in 2013 the GIN Wide Open was hosted.
So what is great about Meduno?
Maybe the question should be what isn't! The flying is extremely reliable and at it's best in the Spring and Autumn. Big, grassy launch. Lots of landing options. Mountain flying. Flats flying. Great hotels with swimming pool and hot tub. Restitution as good as anywhere I have been. This place just has it all and is currently my favorite site to guide.
Dates?
Please check the holiday dates here;
Accommodation?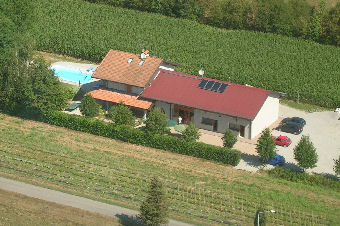 We have a few options we use in the area. The image shown is Patrizia's. A hotel with mainly twin rooms, with swimming pool, hot tub etc and their own landing field just yards away. Breakfast is included and their is the option of cheap evening meals in house some evenings too. The other option, for smaller groups, is the rental of a house so you can enjoy some home cooking (your own that is). Great for keeping the costs down.
Flying?
Meduno has several distinct flavors of flying, depending on your airtime and the time of day. For starters, it is a several km long ridge for easy soaring. Part of a longer ridge that extends around 100km for the more experienced. As the day warms up the flats out front offer great triangle flights and finally, in the evenings, the place gives the most amazing restitution that usually extends past darkness.
Site details?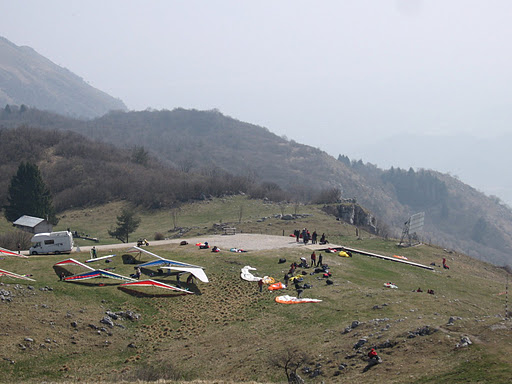 The launch is a huge, grassy area. Brits will feel right at home. No scary alpine stuff here. For HG pilots there is a gentle ramp. The drive to launch is easy and almost all tarmac after some great work by the local Mayer.
The landing fields are great. Yes, more than one. The official one is big, with it's own club house and camping area. There is also the microlight field, around 300 meters from the accommodation. Finally, there is the landing option directly outside the hotel. Of course, this is excluding the hundreds of landing options in between!
Price?
As per all our trips, the price is £595 for a 7 day trip (pro rata if the trip is longer). If we are using the main hotel here though there is a £50 supplement. Trust me. It is worth it!
What is included in the price?
Well, as always,

will give airport transfers, transport throughout the week, including evenings when we decide to eat out, retrieves, coaching, guiding and of course the accommodation (with breakfast usually).
Not included are site fees, flights here and of course your meals (aside from breakfast which is usually included)
How to get here?
Most people would travel to Venice Airport. It is a little over an hour away. You can get flights from all over Europe to Venice with many budget airlines. Favorites of the Brits would be Easyjet from Gatwick, Birmingham etc.
How to book?
Fill in a booking form of course: Book here