Paramotoring Safari Slovenia
Venue:
Slovenia
Pilot Type:
Paramotor Pilot qualified BHPA Pilot or national equivalent

Trip goals:

To fly a tour of the Julian Alps in Slovenia in steady, daily hops of 20-50km.

Accommodation:
Hotels with breakfast. Twin or single rooms
*Single room supplement applies
Trip Cost:
£700 for 8 nights
Typically includes:
Accommodation, Breakfast, Airport Transfer, Transport throughout, Retrieves, Guiding, Fly-guiding, Coaching, Live Trackers. All fuel/petrol (exc oil)
Typically excludes:
- Food (aside from breakfast which is normally included)
Non flyer friendly
Usual locations we use are not the most friendly for non flyers unless they enjoying hiking and paragliding.
Dates:

None planned for 2018 at present
PPG comes of age!
We have been guiding paraglider and hg pilots in the Alps since 2003 at were at the forefront of modern guiding. In that time we have coached literally hundreds of pilots and helped them to fly better, further and longer. Our team have built up a reputation for doing that little bit extra to get you into the air. Now we have started guiding paramotor pilots in one of the most scenic and alpine friendly countries in the world, the Julian Alps in Slovenia.

is led by Brett Janaway. Three times World Record holder for distance and speed, FAI diamond award, meet director for the GIN Wide Open, three times British accuracy champion and a host of other achievements along the way. Brett flies paragliders, hang-gliders, paramotors and microlights. His favorite pastime is taking people for long XCs on the tandem and demonstrating the skills he uses to get the distance.
What is the place like?
Slovenia is, for the region we fly, an Alpine area. It starts close to the sea, with take off points as low as 100ft (30m) ASL but as you move inland there are quickly 10,000ft peaks (3,000m) with their valley bottoms usually around 1,500ft (500m). The majority of the country is alpine tree covered, however if it is a valley floor or remotely flat then it is usually short grass, being considered a local crop.
Why did we choose Slovenia?
We consider a number of factors, not least of which is our own experience in the area. We believe that there is more to guiding than just getting some airtime. We also want to be able to take you to the best bar, best restaurant and get you into the right hotel. But of course, the flying is the most important which is why we are also accomplished pilots in all the areas we choose to fly. We also look to fly each of the regions at the best time of year or with a particular goal in mind for being there at that time. Not least is safety. We only operate where we believe the best medical facilities are available, with good helicopters, search and rescue and hospitals.
What is a typical day?

own their own minibuses (x3) and other associated equipment. We will usually meet you at the accommodation in the morning, typically around 9am (usually we are also staying at the hotel). From there we will have a weather discussion and then decide where we are flying that day before loading into the minibuses. Groups are typically 7 pilots and 3 staff. One vehicle is for the pilots and wings, the other vehicle has the seats removed to hold the motors and fuel. On arrival at the launch site there will be a discussion about the area and then a final briefing before we all launch to head for our next venue. We will usually fly with you, fly guiding along the way and the minibuses will travel towards the next destination once we are safely launched, ready to start the retrieves. After a spectacular XC, usually around 20-40kms we will arrive at our next venue for the day where we will enjoy a short lunch before continuing the flying locally to explore. Once the days flying is done we look to get you first to a bar, and then either to the accommodation or to a restaurant. Gliders are usually stored in your room and motors left in the secure vehicle. Crime in Slovenia is almost nil.
What is the plan for the week?
We have mapped out a route that takes in the best of the mountains. We will start in the south of the country and then, by way of short daily hops, circumnavigate a route around the southern half of the mountain range, finally arriving back where we started several days later. The route will be within the abilities of all the pilots in the group and will allow views of the most amazing areas of Slovenia. The image below shows the key aspects of the route, however each leg shall contain more detail to ensure airspace is not infringed in some regions. At each point we stop there will be further opportunity to free fly and many of those areas are paraglider sites, for those who are also rated in that discipline.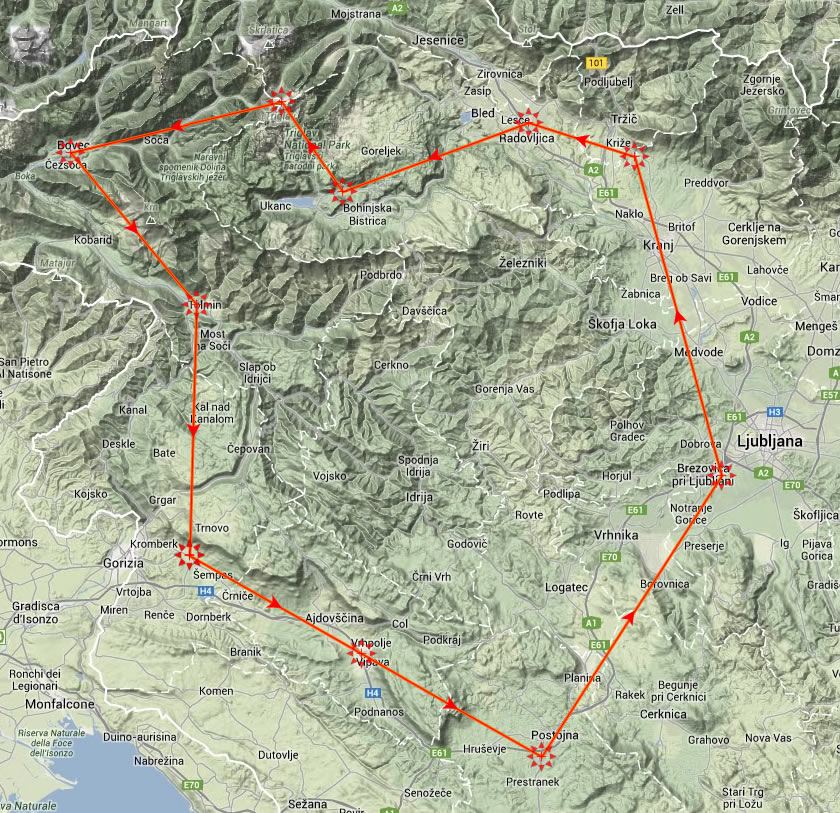 What sort of pilot should I be?
To get the best from the week from the very first flight you should be practiced in launching. This is the skill that lets most people down and holds them back from getting the most from their week. You must be qualified to fly ppg and have 3rd party insurance. BHPA membership (or your national equivalent) is preferred but is not essential. For those whom which to be qualified under the BHPA scheme we are able to qualify pilots whom already have the skills to fly. Each pilot varies in their skills so we do not set a minimum hours. We do recommend you be comfortable with flying small distances, be familiar with your own machine and have reasonable skill for landing out in remote places.
What equipment should I own?
You do not need any specialist equipment. Most paramotors are suited to this trip and any wing rated to fly with a ppg unit is suitable for flying in the region. It is recommended that pilots bring a spare propeller to ensure they are not grounded in the event of yours becoming damaged. GPS is highly recommended, although it is possible to fly the week without. Reserve parachutes, although not mandatory, are highly recommended.

are able to supply equipment at great prices if required.
How do I get my paramotor to Slovenia?
Usually we expect the majority of the group to fly to Slovenia, using Ryanair or Easyjet. A few members of the group would often then drive and transport the paramotors for the others. Financial arrangements for this aspect are left to the individual pilots but an offer of payment in the region of £150 is typical for a return trip of your motor. This allows the driver to have fair contribution towards his travel costs. This system has been in use by hang glider pilots for years and is the least troublesome compared to, say, asking the airline to transport your equipment.
So what does the week include?
Most of our trips include the following'
- Accommodation
- Breakfast
- Airport pickup/drop-off (for those that need it)
- Transport throughout
- Guiding/coaching
- Retrieves
- Live Tracking
What will the cost be?
For the typical trip, as above, it will cost £700 for 8 days. For a longer trip is is calculated Pro-rata, ie extra days at £90 per day. Eight days is the norm for a PPG trip, but it is worth the group considering an extended stay of 10 days. The cost per day, when factoring in travel etc, being very much less and allows for poor weather. Discounts are available for group bookings.