Hang Gliding XC week
Who are we?
We have been guiding pilots in the Alps since 2003 at were at the forefront of modern guiding. In that time we have coached literally hundreds of pilots and helped them to fly better, further and longer. Our team have built up a reputation for doing that little bit extra to get you into the air.

is led by Brett Janaway. Three times World Record holder for distance and speed (Paragliding), FAI diamond award, meet director for the Naviter Open, three times British accuracy champion and a host of other achievements along the way. Brett flies paragliders, hang-gliders, paramotors and microlights. His favorite pastime is taking people for long XCs on the tandem and demonstrating the skills he uses to get the distance.
Other pilots that work with us from time to time include Bruce McCraken, whom has been with us for around 15 years, Marco Zonca, 10 years and occasionally Nicole Fedele, Womens European and World paragliding champion.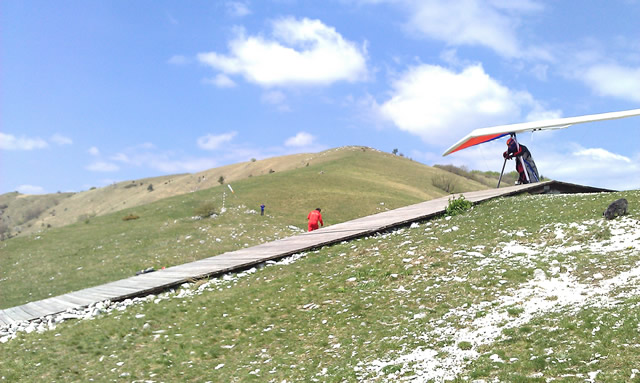 Where do we guide Hang Glider pilots?
Predominantly we run out HG trips in Souther Slovenia in the Spring or Ager in the Autumn. Recently we have been taking pilots to Gemona in Italy. All of the venues we take our clients have been carefully chosen. We consider a number of factors, not least of which is our own experience in the area. We believe that there is more to guiding than just getting some airtime. We also want to be able to take you to the best bar, best restaurant and get you into the right hotel. But of course, the flying is the most important which is why we are also accomplished pilots in all the areas we choose to fly. We also look to fly each of the regions at the best time of year or with a particular goal in mind for being there at that time.
What is a typical day?
We will usually meet you at the accommodation in the morning, usually around 9am. From there we will have a weather discussion and then decide where we are flying that day before loading into the minibuses. All the HG sites we use, we drive to launch. On arrival at the site there will often be a discussion at the landing place about the area and then a briefing on launch to discuss the finer points of the weather, XC routes, safety and other aspects of the site useful to you. We will usually fly with you, fly guiding along the way and the minibuses will travel down, once we are safely launched, ready to start the retrieves. Often there are opportunities to fly more than once and when the day is done we look to get you first to a bar, and then either to the accommodation or to a restaurant.
What sort of pilot should I be?
We are quite used to, and comfortable with, low airtime pilots. It is best to have around 10 hours minimum before visiting the Alps for the first time. After this, we are happy to work with you to improve your skills and flying technique.
What wing should I own?
Our minibuses have roof racks designed especially with hang gliders in mind. They can comfortable fit 8 wings on the roof. If you own an Atos or similar rigid though be sure to contact us as the roof space they use may be restrictive. If we know in advance we can look to employ a second minibus to make it easier to protect your wing and allow the other pilots enough space on the roof.
So what does the week include?
Most of our trips include the following'
- Accommodation
- Breakfast
- Airport pickup/drop-off
- Transport throughout
- Guiding/coaching
- Retrieves
- Some site fees
- Live Tracking
They probably exclude food/beer and flights to the venue. Do check the specifics for the week you are considering.
What will the cost be?
For the typical trip as above, most trips cost £630 for the week. Some trips do vary or have a pro-rata element if different to 7 days. (We often offer significant discounts to HG groups. Ask for details.)