Gemona, Italy
Julian Alps, the 100km week!
Venue:
Julian Alps, Gemona, Italy
Pilot Type:
Pilot rated (IPPI 4 or 5) whom have flown 25km+
Trip goals:

To fly 100km out and return

To learn from Brett Janaway, who holds a World Record for this route

Improve your planning and flying/thermalling

Accommodation:
Hotels with breakfast. Twin or single rooms
Trip Cost:
£595 for 7 nights (No single supplements payable)
Typically includes:
Accommodation, Breakfast, Airport Transfer, Transport throughout, Retrieves, Guiding, Fly-guiding, Coaching, Live Trackers
Typically excludes:

- Food (aside from breakfast which is normally included)

Non flyer friendly
Not suited to non flyers unless they like watching paragliding or hiking.
Dates:

- 7th to 14th April, Gemona (Hotel in Slovenia)

- 28th April to 6th Mayl, Gemona (Hotel in Slovenia)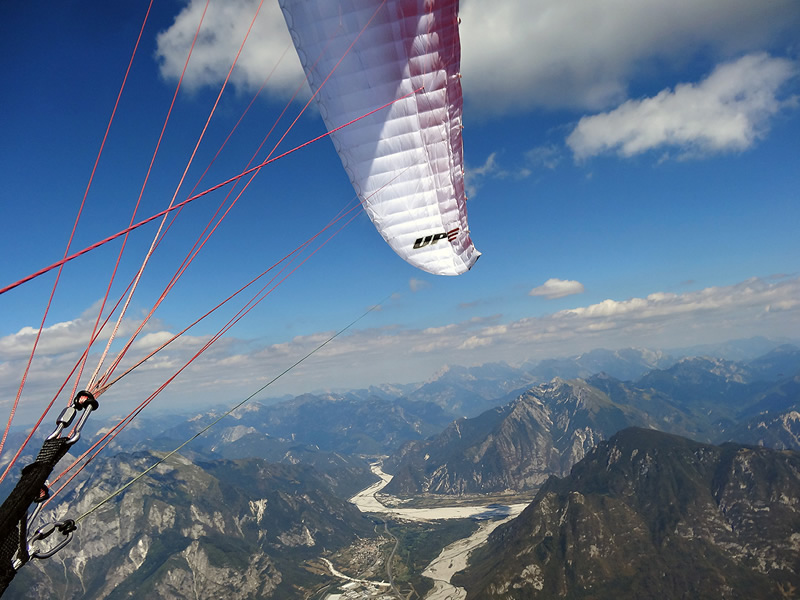 Gemona is in the northern part of Italy, around 1 hour drive from Venice and just on the outskirts of the Julian Alps as it runs off into the Dolomites. This is one of the sites that Brett holds a World Record from, having flown a 100km out & return flight here on the tandem in 2012 and setting a speed record. The flight was so fast that he only needed to make three turns in the whole 100km! Nicole Fedele, the Women World and European champion, has also set a few World Records from this site.
So what is great about Gemona?
Maybe the question should be what isn't! The flying is extremely reliable and at it's best in the Spring and Autumn. Big, grassy launch. Lots of landing options. Mountain flying. Flats flying. Great hotels with swimming pool and hot tub. Did I mention the Italian ice cream? But back to the flying; the site sits in a unique position, right at the edge of the Julian Alps so you just need to climb out, hop over the back and then you are set for a 100km flight along one of the main highways of the Alps. Once the flight is finished and you have returned you can play in the afternoon air before landing in the large, grassy fields and a short walk to the cafe or ice cream parlor.
What is the week about?
In short, the target is about flying 100km. The group will typically be only 6 pilots and all will have some thermalling experience and XC. We will spend the week flying the same route each day. The scenery is too good to get bored, but by repeating the flight you will get a better understanding of the route each time, building on mistakes you may have made earlier and gaining essential knowledge to help you in future XC. Brett will be fly guiding you each day along the route and there will be an opportunity for each pilot to have a tandem with Brett to see how he does it.
Weather?
Typically we look to run this week in the Spring, probably April. This was the time when Brett set his record. The Alps is just coming alive, the views are at their best and the season is just beginning so it is an excellent time to prepare for the summer ahead. Flying that early in such big mountains does come with some risk however. On a typical year the flying will be great, but if the winter runs late then the site may not be accessible due to snow on the roads. If this happens we will simple relocate the trip a little further south and on lower mountains such as Bassano, Lijak or Meduno.
Dates?
Please check the holiday dates here;
Accommodation?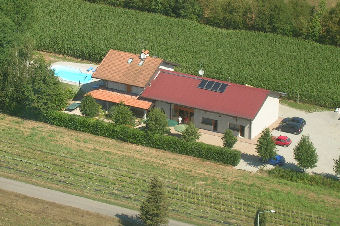 We have a few options we use in the area. For 2018 we will be using the Garni hotel, just over the border in Slovenia. We have used this hotel for several years and in that time pilots have expressed a preference to staying here over the other options, so we decided to make it our main seasonal residence. It is well located to access all the flying sites in the region that we may use.
Flying?
Gemona has several distinct flavors of flying, depending on your airtime and the time of day. For starters you get the classic climbs out from launch to enjoy stunning views of the Alps. As the day warms up the flats out front offer great triangle flights or Out & Returns into the heart of the Alps. In the late afternoons/evenings you can expect a good southerly breeze to be blowing giving reliable ridge soaring through to darkness.
Site details?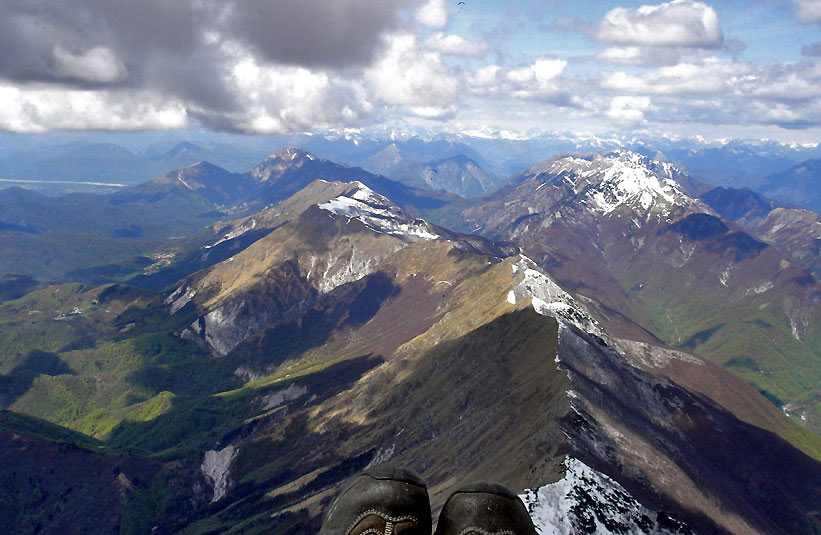 The launch is a huge, grassy area, accessible by a short walk from the road.
The official landing field is great. It is just a few hundred meters walk from a bar and ice cream parlor.
Price?
As per all our trips, the price is £595 for a 7 day trip (pro rata if the trip is longer).
What is included in the price?
Well, as always,

will give airport transfers, transport throughout the week, including evenings when we decide to eat out, retrieves, coaching, guiding and of course the accommodation (with breakfast usually). We will have a dedicated retrieve driver for the trip and all pilots will have live tracking, for safety and learning.
Not included; flights here and of course your meals (aside from breakfast which is usually included)
How to get here?
Most people would travel to Venice Airport. It is a little over an hour away. You can get flights from all over Europe to Venice with many budget airlines. Favorites of the Brits would be Easyjet from Gatwick, Birmingham etc.
Flights
We are operating free airport pick-up from Venice airport for flights arriving by 2:30pm at the latest. Also included is our airport drop-off on the morning at the end of the week.  (Saturday pick up and drop off)  Return flights should leave after 12noon.  There are a multitude of cheap flight operators flying from airports all over the UK.  The following links might help you find the best flight for you.
IMPORTANT NOTICE: Please make sure you book flights for Venice (NOT Treviso) and that they are arriving in time for your FREE transfer to the hotel. Please wait until your trip with us has been confirmed before booking your flights.
On recent trips, the majority of clients have booked their flights with Easyjet or British Airways, whom offer flexible times and airport departure options. Ryanair has also featured in recent years as well as several other operators you could explore.
How to book?
Fill in a booking form of course: Book here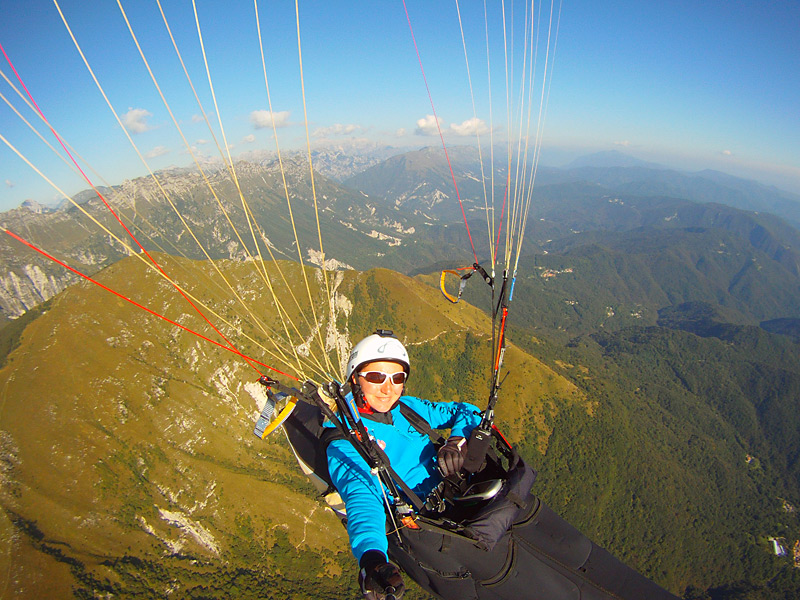 Photo: Nicole Fedele flying past Gemona Launch with the Julian Alps in the background.